Student Resources
Advising
Advisors are here to help you navigate your academic experience, complete your degree, and plan for what's next. We suggest seeking advice early and often to help you explore potential courses and comply with degree requirements. You will also want to meet with your advisors each semester after you have received your Advance Registration materials (typically during the twelfth week of classes).
College of LAS Advising
The department of Earth and Environmental Sciences is within the College of Liberal Arts and Sciences (LAS). All undergraduates are assigned a College of LAS academic advisor that will work with a student from the first days of orientation all the way through to graduation. LAS advisors can help you meet the college's requirements and discuss any questions you may have relating to academic policies and procedures. The LAS Advising Center is located on the 3rd floor of University Hall.
Meet with the EaES Academic Advisor
The department urges all its majors to make an appointment with the EaES Academic Advisor, Greg Keller, for consultation once a semester. Meeting regularly with Greg can help you make a good curriculum plan and prevent mistakes in course selection. Appointments are required for M, W-F. Walk-in advising occurs on Tuesdays from 9:00-noon & 1:00-4:00 (but no DARS review/course planning during walk-in advising).
Meet with the Director of Undergraduate Studies
Professor Fabien Kenig  can provide general information and advice about being an EaES major or minor. If you are interested in doing undergraduate research or finding an internship, you should talk to Professor Kenig. He can also provide advice on graduate school and careers in the geosciences.
Department Resources
Different resources available to undergraduate students majoring in EAES.
Terra Society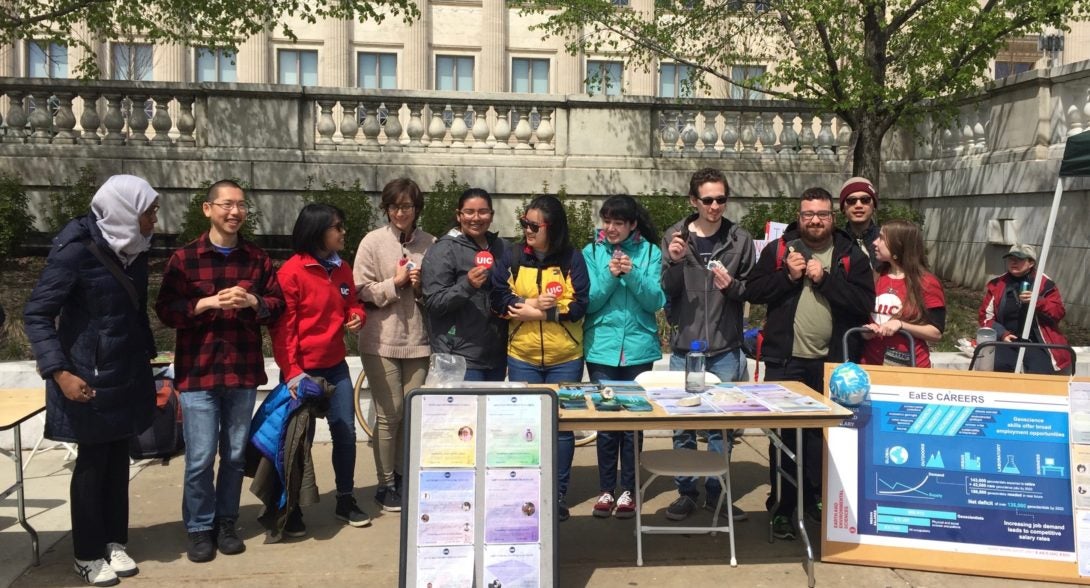 Terra Society
UIC's Terra Society is open to undergraduate and graduate students. Meetings are Fridays at noon in 1280 SEL.  You can find more information about the group here: https://eaes.red.uic.edu/about/terra-society/
Seminars
Seminars
Join us for our Department seminars on Thursdays at 2:00 PM in room 238 SES. The seminars are followed by refreshments at 3:00 PM in Room 2460 SES. For more information or to meet with the speaker please contact the listed host. For more information on seminars, check here: https://eaes.red.uic.edu/seminars/
EaES Undergrad Study Room
EaES Undergrad Study Room
Room 2456 SES is a place just for undergraduates to gather, study, and relax between classes. There are some textbooks and rock and mineral hand samples available in the room to aid in your studies.
EaES Lounge
EaES Lounge
Room 2460 SES is your home in EaES. Feel free to use it to eat lunch and mingle with other students and faculty. Snacks are for sale and benefit Terra Society. Lunch may be stored in the refrigerator and there is a small lending library for your reading pleasure. Students are responsible for keeping the lounge clean; please be courteous to others – toss your trash.
EaES Mailroom
EaES Mailroom
In the mailroom (2440 SES), students can find faculty and graduate student mailboxes. Students also have access to a computer and printer. This facility is for use by EaES graduate students and undergraduate majors and minors ONLY.