Congratulations to Michael Pasterski for being a finalist in the Image of Research Competition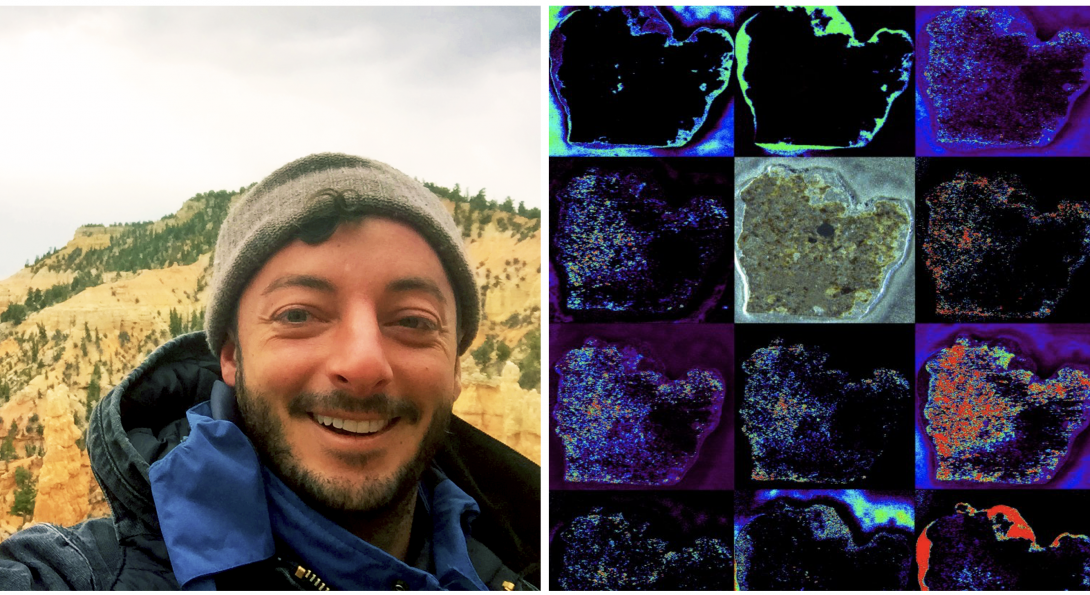 Michael (Joseph) Pasterski is a 3rd year PhD student.  His image "Paint by Lasers" was selected as a finalist in UIC's Image of Research competition.  Joey started his time at UIC in the Earth and Environmental Sciences department as a non-traditional undergraduate.  He is now working with Prof. Fabien Kenig to study organic geochemistry.
Paint by Lasers Description:
In organic geochemistry, particular molecules can indicate what kind of life was in a given environment when a rock was being deposited. Current techniques to analyze molecules in rocks can effectively determine the composition of the organic constituents; however, the preparatory steps necessary prior to analysis (sample crushing, solvent extraction; think extracting coffee from coffee beans) make it impossible to determine the spatial distribution of organic compounds within rocks. Here, we used the mass spectrometry (MS) imaging technique, femtosecond-laser desorption post ionization-MS (fs-LDPI-MS) developed by Professor Luke Hanley in the UIC Department of Chemistry. This approach is used to determine the spatial distribution of organic compounds within a ~160 million-year-old mudstone. The spatial distribution of organic compounds can indicate when and how an organic compound was incorporated into a particular rock (i.e. is it a contaminant emplaced during sampling, or was it emplaced during or after deposition?). Larger implications of this research potentially include determining the timing of emplacement of organic molecules in ancient rocks and, if organic compounds are present in Mars samples, determining when and how they were incorporated into the rocks upon sample return.
List of all Image of Research winners and descriptions: https://grad.uic.edu/funding-awards/the-image-of-research/the-image-of-research-2019/#24137
Modified on January 20, 2020