Three Rising Students Awarded the Rodolfo Scholarship for Undergraduates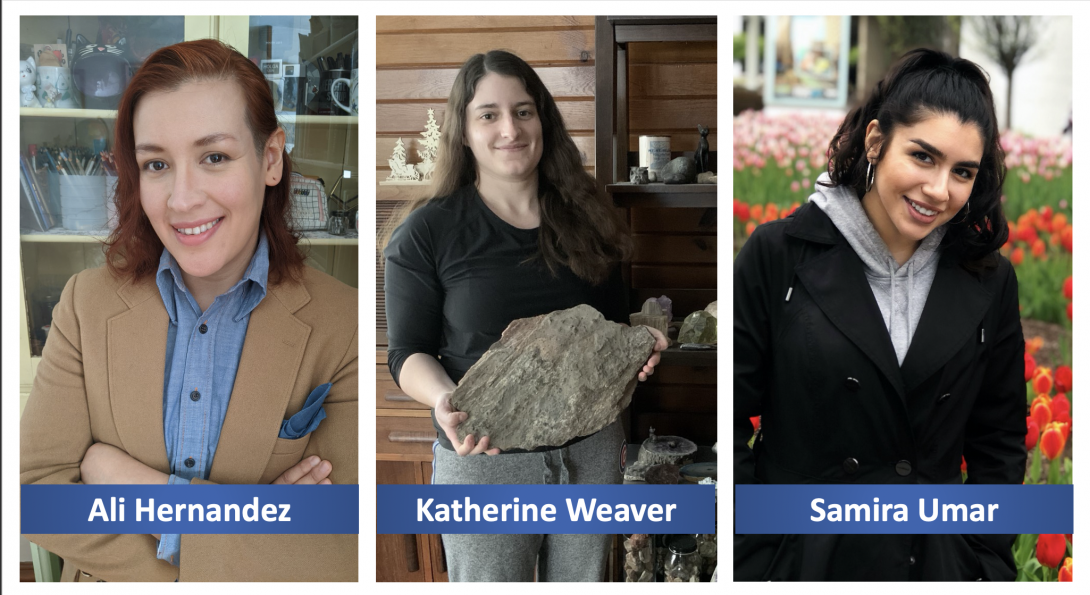 This year we had many outstanding applicants for the Kelvin Rodolfo Scholarship for Undergraduates majoring in Earth and Environmental Sciences.  We selected three recipients who demonstrated excellence in academics and promise for impactful contributions within the field of geoscience.  Congratulations to Ali, Katherine, and Samira!
Ali Hernandez: Ali is currently a junior pursuing her Bachelor's degree in Earth and Environmental Sciences after working as a welder and blacksmith both in Chicago and Austin, Texas. She is an Army Veteran who served with the 82nd Airborne Division as a paratrooper, diesel mechanic and performed vehicle recovery missions while deployed to Iraq. Her interests in EaES first started during her enlistment on maneuvers which were all outdoors. As she traveled, she found herself being more and more intrigued by the processes that created the environments around her. She took a metallurgy course while later focusing on metalwork and that was the catalyst to switch gears and enroll full-time as an EaES major. Approaching Earth materials from a more scientific perspective has finally put her in her element (pun intended!).
In addition to science, Ali has always had a propensity to incorporate a creative outlet into her work. Not only for the sake of art but as a way to illustrate fundamental concepts in a variety of functional ways that might resonate with learners with different abilities. As someone with dyslexia, this comes from a partial hobby as well as her own way of grasping abstract concepts by creating a variety of tangible representations. This year, Ali is completing her portfolio and after graduation hopes to continue her education by earning her Master's degree in Scientific Visualization. She hopes to contribute to improving the understanding of science, particularly for those who may feel hesitant about exploring EaES or any of the STEM fields.
Katherine Weaver: Katherine Weaver is currently a senior at UIC and plans to graduate in the Fall 2021 semester. She transferred into the university and the department of Earth and Environmental Sciences two years ago from Waubonsee Community College in Sugar Grove, Illinois. Katherine is looking for internship opportunities this year and wants to participated in departmental research, hopefully in the Fall, when campus life can return to normal. Katherine has interests in soil physics and chemistry, mineralogy, and sedimentology.
Katherine grew up playing outside and exploring local forests and creeks. She was always interested in the rock formations and strata along the creek/riverbeds. Her dad passed down a small rock collection to her when she was younger, that helped pique her interests in EaES. After graduating, Katherine would love to work in a lab and in the field analyzing soil and mineral samples for a local company or for the Illinois State Geological Survey!
Samira Umar: Samira is currently a senior who transferred to UIC in 2018 from Richard J. Daley Community College. She started actively doing research with Dr. Miquel Gonzalez-Meler during the Spring 2019 semester as part of the L@S Ganas Research Fellowship. Currently, Samira is working on an Honors College Capstone project, studying the soil carbon content of Midewin National Tallgrass Prairie to understand the impact of grazers. She plans to complete her capstone project this semester, and over the summer she plans to work on her first publication associated with the research.
Born in Chicago, but raised in Texas, Samira decided to return to Illinois to pursue her education at age 17 and has not looked back. Through her participation in the Northwest Passage Project, during the summer of 2019, Samira found her passion lies with understanding ocean-atmospheric interactions and hopes to get accepted into graduate school this upcoming fall semester. She hopes to continue to investigate the complexities of oceanic environments, develop solutions for climate change, and help advise policymakers on how best to regulate pollution and waste. She believes pursuing a Ph.D. in oceanography with a specific interest in marine geology and geochemistry would give her the tools to achieve these goals.
Modified on February 24, 2021