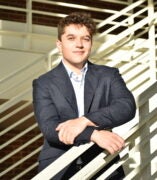 Jack Breiter
Lab Operations Manager
Earth and Environmental Sciences
Pronouns: he/him/his
Contact
Building & Room:
1344 SES
Email:
Related Sites:
About
I'm a recent graduate and technician from the University of Illinois at Urbana-Champaign. My previous professor, Wendy Yang, introduced me to my current professor, Gavin McNicol. I've had plenty of hands-on experience working with agricultural crops and the sustainable research surrounding them, whether I was gas sampling, taking cores, running wet chemistry analyses and other soil lab related experiments. Now, I've had the wonderful opportunity to help Gavin with product acquisition, streamlining workflow of the research, managing undergraduate researchers, and assisting with his three graduate students. I'm super excited to embark on this journey with UIC.
Education
Bachelor of Science in Earth, Society and Environmental Sustainability, Minor in
Geographic Information Science.