Congratulations to our newest Emeritus Professor – Roy Plotnick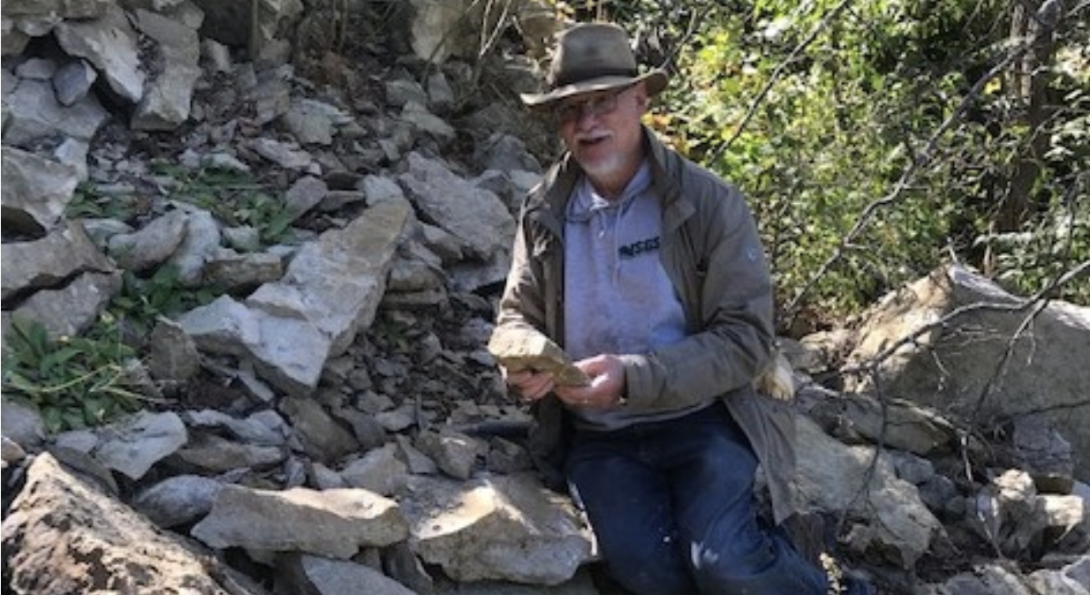 Roy Plotnick retired from UIC on August 15, 2020 after 38 years and has been appointed Professor Emeritus. Roy, a paleontologist, began his career as a Lecturer in 1982, became an Assistant Professor in 1983 after obtaining his PhD from the University of Chicago, and rose through the ranks, becoming a Professor in 1998. He has been honored with many awards, among them the Distinguished Service Award from the College of Liberal Arts and Sciences in 2014, Fellow of the Paleontological Society in 2012, and Fellow of the Geological Society of America in 2013. His research, which he describes as "eclectic", ranges from study of eurypterids to fractals in the Earth sciences to cave biota to Mazon Creek (IL) fossils to the traces organisms left as they foraged for food to fossil cricket ears to what fossils will be in the future rock record of the Anthropocene. And, don't forget 'In Search of Watty Piper: The History of the "Little Engine" Story'! You can learn more about his long and ongoing productive career on his webpage. And, stay up-to-date on his current activities and musings with his blog.
The Department hopes to have a formal celebration when possible. For now, we share some of his news, reflections, and plans, from a recent Zoom interview in which he refers to retirement so far as "a sabbatical".
What are your thoughts on retiring, and on retiring during a pandemic?
We haven't had any opportunity to celebrate…It's anticlimactic! I do miss the interactions with people and I regret that I couldn't take my last set of field trips in my classes. I was also looking forward to the departmental summer trip to Oregon that we had planned for the end of May.
What exciting science have you been doing?
I'm revising my book 'Explorers of Deep Time' which is about what a paleontologist actually does, why they do it, and why it's important. It covers the diversity in the discipline, interest in the discipline, and techniques in the discipline. I talk about why understanding the history of life on Earth is important for understanding the future of life on Earth. It will be published by Columbia University Press, hopefully by the end of this year.
That sounds really interesting. Can you share a part of the book with us?
I can share this excerpt from Chapter 1:
"Paleontology is one of the most familiar and accessible of all sciences. From a young age, children are familiar with the names and life habits of dinosaurs. Media reports of new fossil discoveries appear several times a week. Despite this popularity, misconceptions about paleontology and paleontologists abound: we are confused with archeologists; we study only dinosaurs; or all fossils are rare and valuable. One purpose of this book is to dispel these misconceptions. Another is to describe what are the "big questions" that drive the field and the methods and data that are used to approach them. I will introduce a diverse group of paleontologists and the wide range of topics and interests that motivate them. And I will also frankly discuss the trials, tribulations, and joys of pursuing a career studying the history of life.
This is not a textbook or a collector's guide to fossils. You will not be bombarded with a plethora of Latin species names or terms. Instead, I will focus on the practice of paleontology, the "how do we find out" part of our science. I will address some of the internal and external controversies of the field, such as the commercial sale of fossils and the teaching of evolution. You will also learn that instead of being an "old science," in this day of DNA sequencing and gigantic supercolliders, it is an ever young and vibrant field that has incorporated these new technologies and has tremendous relevance for the environmental problems that we will face in the future."
Looking forward to the published version! Are you working on anything else, any new papers?
I just submitted a paper in honor of the retirement of Tomasz Baumiller, my first MS student, from the University of Michigan. He was a professor in Earth and Environmental Sciences and the Invertebrate Curator of their Museum of Paleontology. And, I have many papers in various stages of preparation, submission, and review,  including one with my recent PhD student Shannon Hsieh. I'm thinking about writing another book "The Dinosaur on your Dinner Table" about the evolutionary history of the foods that we eat - why is a chicken a dinosaur? - when did grapes first appear? This would follow along the same lines as my open-access article Jurassic Pork: What Could a Jewish Time Traveler Eat? that appeared in Evolution: Education and Outreach (8(1):17).
What else have you been doing?
I'm still active in the Paleontological Society – I'm co-chair of the Development Committee.
I'm also leading an effort to have land in the Starved Rock area that was recently acquired by the State of Illinois designated as a fossil park – a place where the public can go to collect fossils. I've been working with a group of about ten others and it looks like it might be a go. Stay tuned to my blog posts on the idea of Geoheritage for more news on that.
That's a wonderful effort – for the public and also to get more students excited about Earth science. We're curious to know about the non-sabbatical part of retiring – what are you planning that isn't "work"?
As soon as we can travel, we are going to travel. Deb and I have planned a trip to Paris in October – we've never been – we're hoping that will happen. We also want to visit our son Daniel in State College. He's research faculty in physics at Penn State and his wife is an entomologist in the School of Agriculture, and we haven't been there yet. We do see our other son – Jonathan - regularly since he is living in Chicago. He works at a law firm helping people obtain social security disability benefits. Deb hasn't retired yet – she's at Victory Gardens Theater in Chicago running their advancement department. We plan to travel even more once she does! And, of course, there are lots of places I want to visit to bang on rocks right now!
The entire department thanks Roy for his many years at UIC – we wish him the best!
Modified on August 14, 2022