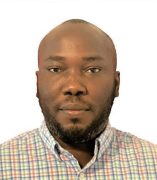 Akintomide Afolayan Akinsanola, PhD
Assistant Professor
w/ Joint Appointment at Argonne National Laboratory
Regional Climate Modeling, Climate Variability and Change
Contact
Building & Room:
2466 SES
Email:
CV Link:
Related Sites:
About
Dr. Akinsanola is broadly interested in how large-scale tropospheric circulation influences regional climate and climatic extremes. He utilizes varieties of climate models and observations to better understand climate dynamics, especially processes that impact monsoon systems as well as tropical and mid-latitude precipitation. His research also involves identifying sources of climate model biases and reducing climate change uncertainty at regional scales.
Interested in joining our Lab?
I am actively seeking highly motivated undergraduate and graduate students, and postdocs who are interested in utilizing regional and Earth system models, and observations to understand the dynamics of the climate system, better quantify extreme weather/climate events and address the critical challenges posed by earth's changing climate. For prospective candidates, please email a copy of your CV and a brief description of your interests to Dr. Akinsanola (aakinsan@uic.edu).
Selected Publications
Complete list of publications on Google Scholar and Research Gate
Kooperman GJ, Akinsanola AA, Hannah WM, Pendergrass AG, and Reed KA (2022) Assessing two approaches for enhancing the range of simulated scales in the E3SMv1 and the impact on the character of hourly US precipitation. Geophysical Research Letters. https://doi.org/10.1029/2021GL096717
Faye A and Akinsanola AA (2021) Evaluation of extreme precipitation indices over West Africa in CMIP6 models. Clim Dyn. https://doi.org/10.1007/s00382-021-05942-2
Akinsanola AA, Ogunjobi KO, Abolude AT and Salack S (2021) Projected changes in wind speed and wind energy potential over West Africa in CMIP6 models. Environ. Res. Lett. 16 044033
Akinsanola AA, Kooperman GJ, Reed KA, Pendergrass AG and Hannah WM (2020) Projected changes in seasonal precipitation extremes over the United States in CMIP6 simulations. Environ. Res. Lett. 15 104078. https://doi.org/10.1088/17489326/abb397
Monrie PA, Wainwright CM, Sidibe M, and Akinsanola AA (2020) Model uncertainties in climate change impacts on Sahel precipitation in ensembles of CMIP5 and CMIP6 simulations. Clim Dyn. https://doi.org/10.1007/s00382-020-05332-0
Akinsanola AA, Kooperman GJ, Pendergrass AG, Hannah WM, and Reed KA (2020) Seasonal representation of extreme precipitation indices over the United States in CMIP6 present-day simulations. Environ. Res. Lett. 15 094003. https://doi.org/10.1088/17489326/ab92c1
Akinsanola AA, W. Zhou, T. Zhou and N. Keenlyside (2020) Amplification of synoptic to annual variability of West African summer monsoon rainfall under global warming. npj Clim Atmos Sci 3,21. https://doi.org/10.1038/s41612-020-0125-1
Akinsanola AA and W. Zhou (2019) Projection of West African summer monsoon rainfall in dynamically downscaled CMIP5 models. Clim Dyn 53, 81–95. https://doi.org/10.1007/s00382-018-4568-6
Akinsanola AA and W. Zhou (2019) Dynamic and thermodynamic factors controlling increasing summer monsoon rainfall over the West African Sahel. Clim Dyn 52, 4501–4514. https://doi.org/10.1007/s00382-018-4394-x
Adeyeri OE, Akinsanola AA and Ishola KA (2017) Investigating surface urban heat island characteristics over Abuja, Nigeria: Relationship between land surface temperature and multiple vegetation indices. Remote Sensing Applications: Society and Environment. org/10.1016/j.rsase.2017.06.005
Service to Community
2022 – till date, Editorial Board Member, Communications Earth and Environment (Nature)
2022, Review Panel - Office of Biological and Environmental Research (BER), U.S. DOE Office of Science
Professional Leadership
2021 – 2024, Co-chair of the Monsoons Panel's Working Group on African Monsoons (WG-AFM), Climate Variability and Predictability/Global Energy and Water Exchanges (CLIVAR/GEWEX)
Notable Honors
2018, Chow Yei Ching School of Graduate Studies Scholarships, City University of Hong Kong
2017 & 2018, Outstanding Academic Performance Award, City University of Hong Kong
2012, Award of Excellence, National Youth Service Corp (NYSC)
Education
B.Tech., Meteorology, 2011, Federal University of Technology Akure, Nigeria
M.Tech., Meteorology, 2015, Federal University of Technology Akure, Nigeria
Ph.D., Climate Science, 2019, City University of Hong Kong, Hong Kong SAR
Postdoctoral Research Associate, 2019 – 2021, University of Georgia
Postdoctoral Appointee, 2021 – 2022, Argonne National Laboratory, USA
Assistant Atmospheric Scientist, 2022, Argonne National Laboratory, USA
Join Appointment, 2022 – till date, Argonne National Laboratory, USA