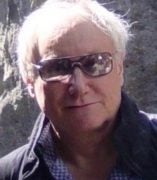 Martin F. J. Flower
Professor Emeritus
Earth and Environmental Sciences
Contact
Address:
c/o 812 S. Oakley Blvd. Chicago, IL 60612-4228
Office Phone:
Email:
CV Download:
Related Sites:
About
My research concerns the petrology and geochemistry of magmas and their upper mantle sources. This has included experimental studies along with acquisition of high precision geochemical and isotopic data. Techniques used involve X-ray diffraction, X-ray fluorescence, and mass spectrometry, augmented by optical and scanning microscopy, electron microprobe analysis and, latterly, ArcGIS and computer-based visualization and modeling 4D data sets.
As 'probes' of their source regions, magmas yield thermal and compositional information bearing on upper mantle flow, thermal state, contamination history, and contingent interactions with lithospheric plates. My work has mostly addressed:
Young and old (Atlantic and Pacific) oceanic crust, with a view to understanding petrogenesis (partial melting, fractionation) and crust construction at mid-ocean ridges (MORs) as a function of spreading rate and asthenospheric flow;
The application of modern MOR parameters - fractionation during polybaric RFT ('refilled-fractioniating-tapped') magma systems - to the genesis of massif anorthosites in Proterozoic continental rifts (Wisconsin, Adirondacks, Labrador);
Magmatism at convergent and collisional plate margins (Philippines, Japan, SW China, NW Vietnam) and conjugate backarc basins;
Intra-plate basalt volcanism, in east and southeast Asia, 'PANCARDI' (Pannonia-Carpathian-Dinarides), and eastern Mediterranean regions, to glean information on upper mantle thermal and compositional character;
Ophiolites, and their signficance re. (a) propagating 'BAF' (backarc-arc-forearc) systems (e.g. Cyprus, Anatolia, southeast Asia), (b) mantle perturbations associated with supercontinent breakup, and (c) as analogues for Archean greenstone belts.
I have collaborated with colleagues and students from diverse countries*, under auspices of (e.g.) the Ocean Drilling Program (ODP, later IODP), the UNESCO/IUGS-funded International Geoscience Correlation Program (IGCP), and various bilateral programs.
Since 2000, I was co-chair** of IGCP-430, an interdisciplinary project titled 'Ductile Mantle Responses to Tethyan Collisions', whose aim was to better understand collision-related mantle flow and its bearing on seismic and volcanic hazards.  Embracing westernmost Europe, east and southeastern Asia, and western Pacific and Micronesian basins, the Tethyan belt includes the Betic-Rif, Pyreneean, Alpine-PANCARDI, Zagros, and Himalayan mountain systems and traces the Earth's most recent collision domain  - that of Africa, India, and Australia with Eurasia. Aside from orogeny, collision responses include (a) lithosphere transtension ('extrusion tectonics') and/or (b) lateral extrusion of ductile asthenosphere, as indicated by 'diffuse' basalt activity, tomographic 'swells', SKS anisotropy, oceanward BAF propagation, and convective infiltration of 'DUPAL' contaminants.
A significant 'take-away' from IGCP-430 is 'TETHYS', an ArcGIS relational database combining geologic, geochemical, chronologic, and geophysical information for neo- and paleo-Tethyan tectonic systems. This provides input for visualizing and modeling 4D data sets that offer a basis for actualistic 'templates' for interpreting the record of continental accretion.
My current interests focus on 'top-down' plate-mantle interactions at convergent and colliding plate margins (plate tectonic 'endgames'), challenges to mantle 'plume' theory, and counter-flow thinking re. historic and ongoing paradigm shifts in the Earth and Environmental Sciences.
*North America (US, Canada) and Eurasia (UK, France, Germany, Netherlands, Italy, Hungary, Romania, Poland, Russia; Turkey, Iran, Pakistan, India, China, Japan, Vietnam, Thailand, Cambodia, Philippines, Indonesia)
**with Victor Mocanu (University of Bucharest), Ray Russo (Northwestern University, now University of Florida), Mo Xuanxue (China University of Geosciences, Beijing), Ma Zongxin (Chinese Academy of Sciences, Beijing), and Nguyen Trong Yem (Vietnamese Academy of Science and Technology, Hanoi)
Education
1964 - 1967 BSc (Hons), Geology, University of Manchester, UK
1967 - 1971 PhD, Geology/Geochemistry, University of Manchester, UK (Thesis: 'Petrologic and Geochemical Study of Lavas and Xenoliths from Anjouan (Ndzuwani), Archipel des Comores, Western Indian Ocean')