Directions to the Department
Find the Earth and Environmental Sciences Department, 2440 SES:
The main Earth and Environmental Sciences Department Office is accessible by entering the eastern part of the Science and Engineering South (SES) building. There is an exterior stairwall on the eastern side of the outdoor plaza that will allow you to enter SES on the 2nd floor. Once inside the double glass doorways turn right to access the Department of Earth and Environmental Sciences in the 2400 block of the building. The main department office is located in 2440 SES.
An accessible entrance to the building is located on the south side of the building, where you can enter on the first floor of SES and take the elevator up to the 2nd floor.
More information: Detailed instructions for finding Earth and Environmental Sciences
Find the Science and Engineering South Building, 845 W. Taylor St:
The Science and Engineering South (SES) Building is located at 845 W. Taylor St. on the East Campus of the University of Illinois Chicago and is ~2 miles from Chicago's Loop (downtown district).
By Public Transit: The East Campus is located near the UIC-Halsted CTA Blue Line stop. This is ~5-minute ride from the Chicago Loop on the CTA which is an elevated train and subway line that serves Chicago. The Blue Line is directly connected with O'Hare airport (~50 minutes), whereas transfer to the Orange Line in the Loop provides a connection with Midway airport.
SES is also accessible via CTA Bus, including the #8-Halsted bus, #12-Roosevelt bus, and the #157-Streeterville bus.
By Car: The department can be reached by car via the Eisenhower (I-290) and Dan Ryan (I-90/94) Expressways. Parking is available in the Halsted/Taylor Street parking garage or the Morgan/Roosevelt Street parking lot.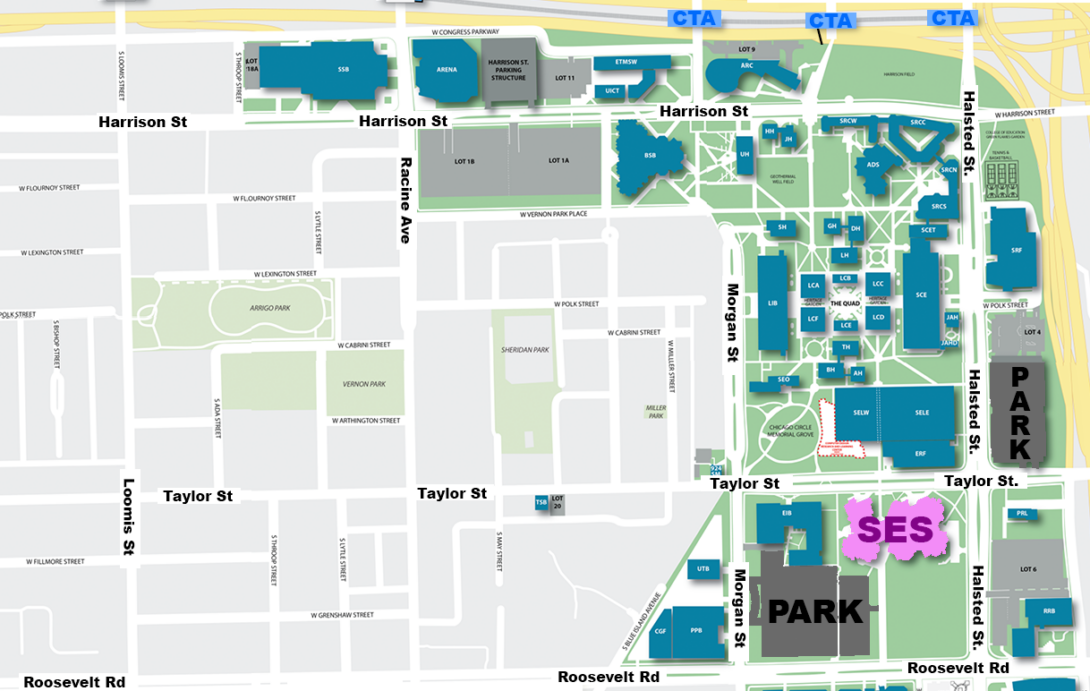 Map of University of Illinois Chicago's East Campus. The SES building is highlighted in purple, visitor parking lots are labeled in black, and the CTA UIC-Halsted Blue Line stop is marked at the top of the map.