About the Degree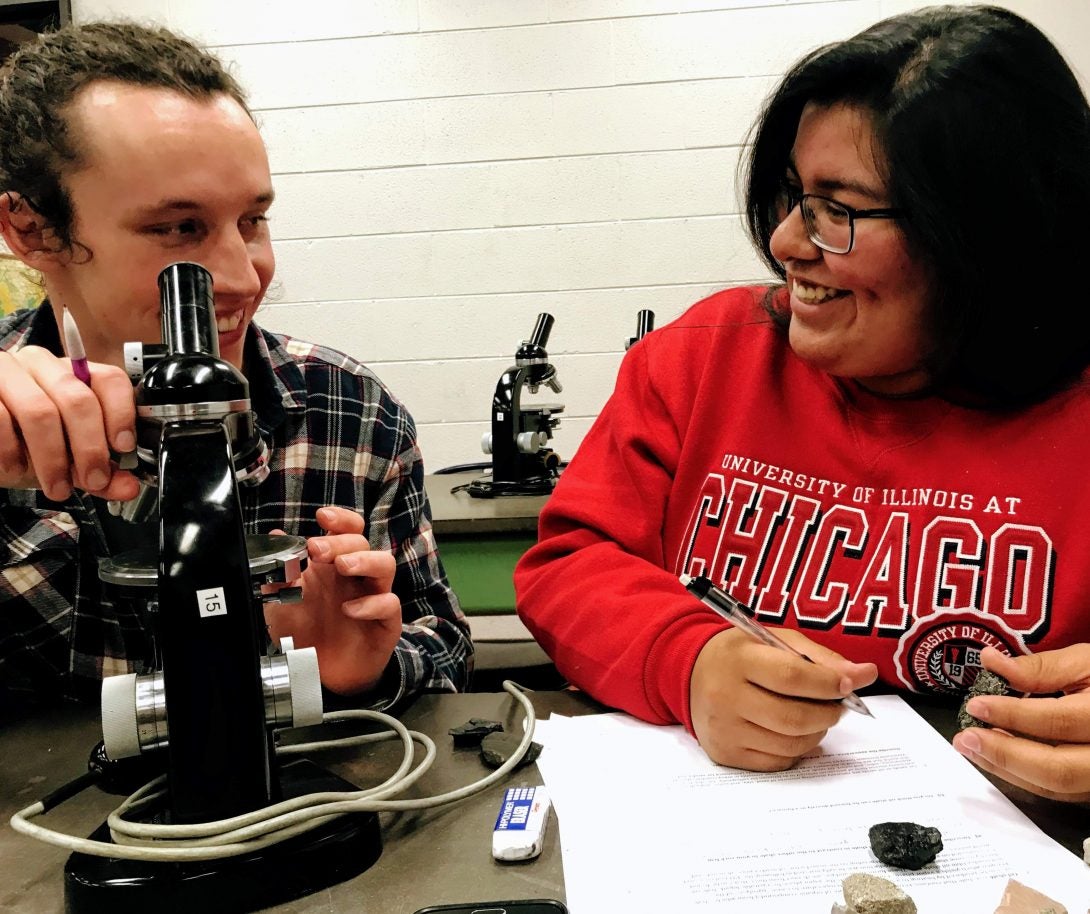 Earth and Environmental Science (EaES) majors and minors study the processes that occur at Earth's surface and in its interior, the evolution of these processes over time, and the solids, liquids, and gases that make up Earth materials. Earth is viewed as a dynamic body, with continual exchange of materials and energy among the planet's interior and exterior, atmosphere, oceans, and life. Understanding these Earth system processes is essential for evaluating the global environment, its natural variability, and changes that result from human activities.
A degree in earth and environmental sciences may lead to employment in industry, in the public sector, or in education. Many earth scientists establish careers in areas that are environmentally related, which may include the prevention, control, and remediation of pollutants from water and soil. Others work at predicting and preventing problems associated with natural hazards such as earthquakes, landslides, floods, and volcanic eruptions. Employment possibilities also exist in the exploration, use, and management of resources such as water, metals, petroleum, and coal.
Selecting a major is a significant decision and declaring it to the university will help you connect more to the department and understand the requirements of the major.  We recommend that you declare your major or minor as soon as possible.  After you declare, you'll be able to join the EaES email listserv, which is how the department disperses information on scholarships, internships, and jobs.
To declare your major or minor, talk to the EaES Academic Advisor (Greg Keller, gkeller1@uic.edu) or Director of Undergraduate Studies (Professor Fabien Kenig, fkenig@uic.edu). It is a requirement of the College of Liberal Arts and Sciences that you declare your major by the end of your sophomore year.
To earn a Bachelor of Science in Earth and Environmental Sciences, students need to complete university, college, and department requirements.  The Department of Earth and Environmental Sciences is within the College of Liberal Arts and Sciences at UIC.  Department degree requirements are outlined below.
To be recommended for graduation with Departmental Distinction, a student must have a GPA in mathematics and science courses of at least 3.20/4.00 or at least 3.50/4.00 for High Distinction. For Highest Distinction, students must have a GPA of at least 3.70/4.00, as well as superior performance in EAES 396, entitled Independent Research, which allows students to work one-on-one with faculty.
| Summary of Requirements | Hours |
| --- | --- |
| Required Prerequisite and Collateral Courses | 26-28 |
| EaES Department Requirements: Core Courses | 20 |
| EaES Department Requirements: Selective Courses | 19 |
| College of LAS Requirements: General Education and Electives | 53-55 |
| Total Hours | 120 |
Students are required to complete a set of general education course requirements in order to earn a degree in the College of Liberal Arts and Sciences. Some requirements will be fulfilled naturally as you complete the major, such as Writing in the Discipline and Quantitative Reasoning, but you may need to specifically sign up for other requirements, such as English Composition or a foreign language class.
General Education Core
General Education at UIC is designed to serve as a foundation for lifelong learning. The following General Education Core requirements for the College of Liberal Arts and Sciences satisfy the University's minimum requirements. The General Education Core includes the following six categories: Analyzing the Natural World, Understanding the Individual and Society, Understanding the Past, Understanding the Creative Arts, Exploring World Cultures, and Understanding U.S. Society.  You must take at least one course in all six categories.
General Education Proficiencies—Foreign Language, Quantitative Reasoning, and University Writing
Students in the College of Liberal Arts and Sciences must demonstrate competency in a foreign language (equivalent of 4 semesters), quantitative reasoning, writing composition (ENGL 160 and 161), and writing-in-the discipline (EAES 290) to earn a degree.
As a requirement for graduation, the College of Liberal Arts and Sciences stipulates that every graduating student must have taken a minimum of 40 credit hours at the 200, 300, and 400 levels at a 4-year institution; these may include hours in the major. The courses needed to fulfill this requirement can be in any discipline; however, as you approach graduation, you will probably find that advanced EAES courses will allow you to satisfy the College of Liberal Arts and Sciences requirement. Warning: It is easy to reach your senior year still taking 100-level courses and as a consequence fail to satisfy this requirement.
The college also requires that your last 30 hours of course work be completed at UIC and that you complete at least 60 hours after reaching junior status must be at a 4-year institution.  This last rule means that you should not take courses at a community college after your sophomore year.